While buying the first house, a question which one faces all the time is as to whether one should buy a 2 BHK or a 3 BHK apartment. Needless to say that it depends on one's needs and affordability, but it is not such a simple decision. It is important to understand that the decision being taken now will stick for a long time for one doesn't change a home easily. The important considerations in this decision are – 1. Current and planned family needs, 2. Available budget and 3. Purpose (self-occupation or investment (renting).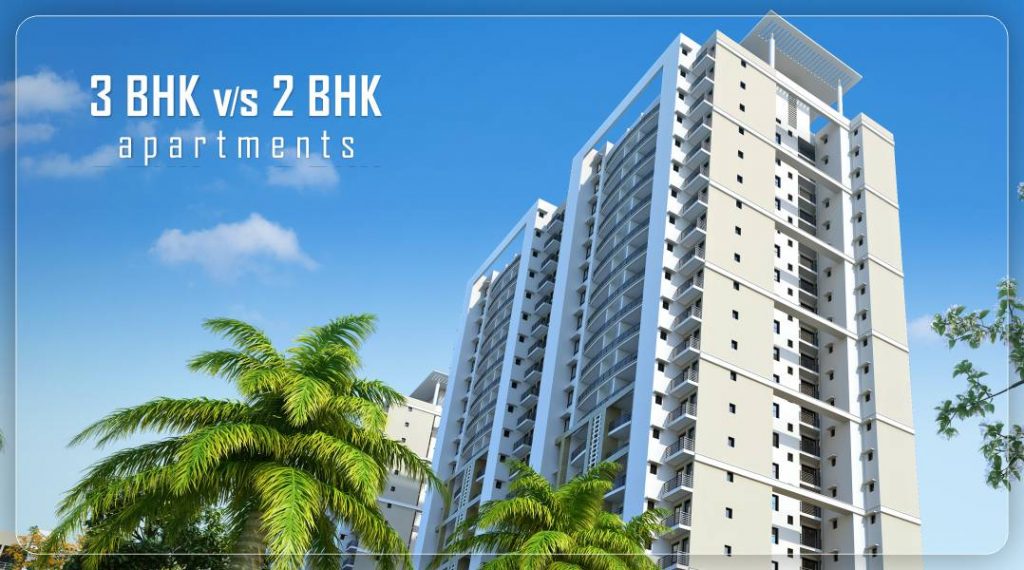 Buying a home is a long term and an emotional decision. Therefore, the decision most of the time can't be limited by the above 3 considerations very strictly. It is especially true for people buying their first home. There is a certain amount of pride involved in buying a first home on your own – you may have started earning a few years back and now look to invest the surplus money in a way that provides you long term security in the form of a home. First home buying is also an emotional moment in countries like India because of the association of this event with one's status in society. Therefore, it is important to do consider all the aspects, while buying a home. Let us now look at each of the above-mentioned 3 aspects in detail.
The first thing one needs to do is to understand the family needs currently as well as planned requirements for the future. It is also important from the perspective that the family requirements change at various stages of life and one doesn't want to keep moving house every time. It is important to consider points like how many kids are there in the household and if the grandparents are going to be staying in the same house. If there is a plan to start a home office for either of the spouses, it is important to put it down as part of the requirement. This needs a detailed thinking process and should not be hurried into.
Another important factor that needs consideration is the budget. One needs to make a personal financial plan to understand the money which can be taken out without affecting other functions of life adversely. Though, housing financing companies offering home loans at attractive rates and terms has helped people stretch beyond their current means. However, it is advisable to take help from a financial planner on this aspect. Housing finance companies also offer help in the form of guiding a prospective home buyer on calculating the loan eligibility and the resulting EMIs.
The purpose for which one is buying a house is also very important. While for self-occupation, it may be advisable to stretch the budget a bit and look for a bigger house, the investments have generally grown faster in the case of smaller units. It is also easy to find a renter or a buyer of a smaller house.
It is, therefore, important to consider all these factors in detail and strike a balance between needs and budget before deciding what size of the home is preferable.