A home is made up of love, hopes, and dreams. It is a place where you create memories with your loved ones for a lifetime. Even better is that you get some tips or a person to guide you to make the whole home buying experience smoother and easier.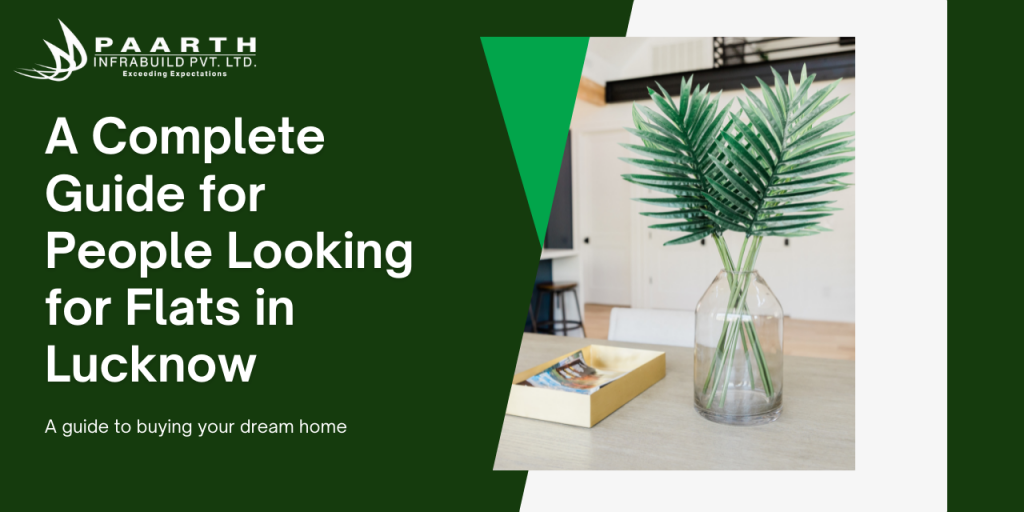 However, Lucknow being the city of luxuries and Nawabs has everything in abundance. Buying a home is one of the biggest decisions in a person's life. It is one of the biggest life goals for a countless number of people all over the globe.
Especially buying your first home can be a little overwhelming. There are a lot many questions in a person's mind about budget, location, lifestyle needs, which builder to choose, whether to go for under-construction property or ready to move in and so on.
If you know what your exact requirement is, the entire experience of selecting the correct home for your needs will seem easier. As there are a lot of options available to buy Flats in Lucknow, a first time home buyer may get a little overwhelmed
To make the entire process easier for you, we are providing you with a complete guide on what factors you need to consider while buying your first property in Lucknow.
The most important factor to consider while making a purchase decision is to finalize the budget. Location and type of property will determine the price. This will help you narrow down properties in Lucknow while deciding.
You may want to take into consideration your existing and futuristic financial commitments planned and have an estimate of the EMI's that you are comfortable paying every month at a reasonable rate of interest and tenure of the loan. You can calculate this using the EMI Calculator.
Deciding the type of property
The City of Lucknow has a lot to offer when it comes to the options and the variety available. The type or size of the property you buy depends on factors like the number of members in your family and your budget. All this will help you decide if you want to go for an independent house or an apartment.
This will also help you determine whether you want a 1 BHK, 2 BHK, or 3 BHK flat, as per your requirement. There are various developers in Lucknow offering independent houses and apartments of all sizes and budgets at various locations.
Any view that soothes the eye and gives the required clarity is the best as per the industry experts, however, every individual has her / his own taste. Choosing the location for your home is one of the most important factors in making the decision. You should choose a location so that your school, office and other places that you need to commute to on a regular basis are easily accessible.
It is also important to have good connectivity with the market, hospitals, railway stations, airports, and other such important social infrastructure. The budget that you have decided on will also play a very important role in deciding the location of your property.
A prime location in the city will command a higher price as compared to other areas that are still developing. Here it is really advisable to have a look at the future plan map for the city which is easily available on the websites or LDA office.
While buying a home in Lucknow, you may consider prominent locations like Gomti Nagar, Gomti Nagar Extension, Sultanpur Road, Golf City, Shaheed Path. These locations have easy accessibility to all the areas in Lucknow.
Choose amenities as per your needs
These days apartments in Lucknow offer a host of amenities like a clubhouse, kids play area, swimming pool, gym, amphitheatre, meditation zone, Power Backup, Gated Security, parking area, convenience store, jogging track, etc.
Make a note of the kind of amenities that you require on a regular basis depending on the members of your family. For instance, if you have kids, it would be a good idea to consider an apartment that has a spacious play area. If you have elderly members in the family, you may look for amenities like a park and yoga room.
If you are buying a home in a township, you will have easy access to the things you need on a daily basis as everything will be available on the campus itself. You may select your dream home on the basis of your requirements.
Buying a home is probably the biggest investment of a person's lifetime. Since a lot of time, money, and emotions are attached to making this decision it is crucial to consider the builder's reputation. Check the record of the builder and the company, how many projects has he delivered.
There are a number of developers in Lucknow and it might get a little confusing to decide.  So it is always advisable to do your research before coming to a decision. There are a lot of reputed builders in Lucknow like Ansal, Omaxe, and Paarth Infrabuild and so on who have developed good quality projects in Lucknow.
Since buying a home is a big investment, you will need to avail a home loan. You can talk to your existing banker or look for a project that is already Bank Approved. It is advisable to look for a Bank approved project in Lucknow as it is generally a more secure option as Banks usually do a thorough investigation of the financial feasibility of any project before giving approval for a loan.
A home loan also offers tax benefits as interest paid on a home loan is tax-deductible.
Do thorough research on home loan rates offered by different banks and go with the one which is the best suited to your needs.
Verify if the project is RERA Registered
The property should be registered under RERA and you can check for the same on the official website of RERA (Real Estate Regulatory Authority). RERA ensures that the interests of the buyer are protected in terms of what the developer has committed to deliver.
This ensures more transparency between the buyer and the developer. In case of any grievances related to a property, you may reach out to RERA for assistance. So, always look for a RERA Approved Property in Lucknow.
How soon do you want to move in and what kind of payment plan you are looking at will determine the status of the Property you buy. Whether you want to go for an under construction project or ready to move in will also further help you to narrow down your options.
If you wish to move in immediately, go for a ready-to-move-in project. You will have to make the entire payment in one go for a ready-to-move-in property. If you can wait for some time before you are ready to move into your new home, go for an under construction project. This will also give you time to make the payment as and when the construction takes place.
Keep into consideration the additional costs
When you are working out a financial plan to pay for your house, do not forget to consider additional costs like property registration cost, property taxes, maintenance cost, property insurance and cost of interior fit outs, if required. All these will come into play after you have bought the house but they do make up for a considerable amount and need to be factored in your financial Planning.
Do talk to your developer about an estimate of these cost before making the buying decision.
Know the Government Benefits available
The Government has several ongoing schemes for first time home buyers and you should find out if you are eligible for any. If you are a first time home buyer, you are eligible to avail income tax benefits under the sections- Section 80C, Section 24 and Section 80EEA of the Income Tax Act. Make sure to avail benefits that the government has to offer, if applicable to you.
You may also check with the developer in Lucknow about the benefits you may get if you are eligible for any, on booking your home with them.
Take into consideration your future needs
Buying a house is a big decision in a person's life so it is always a good ideas to take into consideration your future needs as well before making a purchase decision. A bachelor who might be planning to get married in near future can opt for a 2 BHK preferably.
A married or expecting couple can go for a 3 BHK as they will require a bigger space. It might also be a good idea for them to look for a neighbourhood that has good schools, paediatricians, market and open spaces. So, do consider what your life is going to be in a couple of years while making your home buying decision.
If your financial planning requires selling the house at some point in future, make sure to look for a locality that shows potential appreciation in the future. For this, you can look in for factors like availability of good social infrastructure and easy accessibility to major areas in Lucknow.
Areas like Gomti Nagar Extension, Shaheed Path, and Lucknow-Kanpur road have shown good appreciation in the recent past and as these areas are still developing, you will be able to find good properties at affordable prices. Your first home is a memory for your lifetime. Especially after Covid, the real estate market is looking up as people have realised the importance of owning a home.
As per recent trends, families who were staying on rent are keen on buying their own homes and others want to move into a bigger place, especially after the lock down period. We hope this list will answer questions that you might have and can help you in making the decision of buying your dream home in Lucknow.